Before getting into pattern drafting,it is important to know the Pattern drafting tools and their functions.
IF you want to know what pattern drafting is all about,you can checkout this post on Dress pattern drafting for the beginner.
Let's jump right in to the Pattern drafting tools and their functions.
1.TRACING WHEEL
This is a tiny but very useful tool.It has tiny sharp wheels that rolls.
Tracing wheels are used to transfer pattern markings from pattern to tracing paper. Tracing wheels also transfer line markings to both sides of fabric at the same time.
This however is not suitable for heavy fabric.Tracing wheels come in different sizes.But no matter the size,it all serves the same function.
2.CRAFT PAPER.
This blog post contains affiliate links, which when you click and purchase a product will earn me a commission at no cost to you.Please not that I have worked with this products and that is why I recommend them to you.I have found them to be quite useful in my sewing projects
Without a pattern Craft paper,it will be next to impossible to draft a pattern. Craft papers for pattern drafting are made up of two kinds of paper.and are essential for both flat pattern drafting and draping. Both techniques require a medium to create the patterns.
The two types of pattern Craft papers include
1.DRESS makers Tracing paper usually used with a Tracing wheel to mark fabric
2.DRESS makers pattern paper.this has grid lines to help you create and adapt patterns.
Both techniques require a medium to create the patterns.
Even though you are a home designer,you need pattern craft paper
If you are a professional designer using pattern creating software programs, You will still need some craft paper to transfer your patterns to your fabric.
3.PATTERN RULERS
Pattern rulers come in several shapes and forms.Some are plastic,wood ,some acrylic while some come in metal forms.
These rulers are available in a variety of shapes.They also act as guides when drawing curves on a paper pattern.
Although patterns rulers serve singular purposes, some however can be used for multiple purposes .
Tha Dritz styling design ruler,combines hip curve,French curves, and clear transparent ruler.That not withstanding, I will still mention the single use rulers.
THE HIPCURVE.
This is mainly used to shape the hip line of a skirt or trouser.At times,it can be used to shape the gentle curve of a waistline in a skirt or hem line and lapels.
VARY FORM
As the name implies this can be used to shape a variety of areas in a pattern. Areas like the armhole, neckline,side seam curves, trouser hip curve etc.
The lutterloh acrylic pattern rulers is one of my best pattern rulers.I have been using them for over 8 years.These rulers are magic.they combine the job of single and vary form rulers.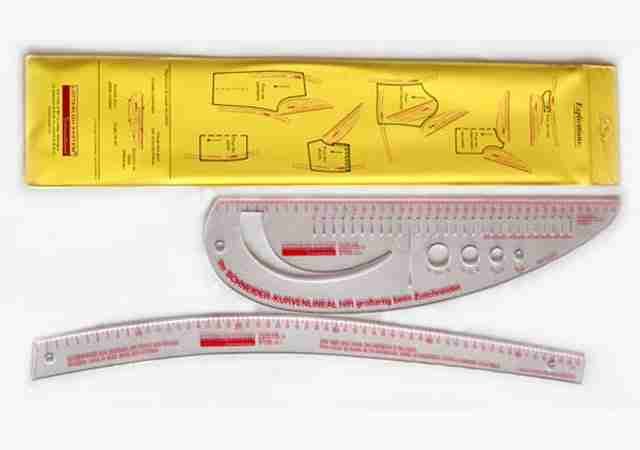 LUTTERLOH ACRYLIC PATTERN RULERS:CLICK PICTURE TO BUY
L SQUARE
This is used to create accurate angles and straight edges.It is also the best tool for measuring small fractions when adjusting straight edges.
Notcher
This is used to make marks on the Patterns to distinguish between front and Back patterns.It can also be used to mark dart legs,seam allowance, ease and center lines.
AWL.
This can be used to signal the beginning or ending of a dart or button hole.
It is usually used to piece holes on your pattern. The holes pieced by the awl can serve as a guide when measuring curves.The measuring tap can give an accurate measurement.when guided through these holes.
It also allows you to hold and manipulate fabric .An example is when guiding a gathered edge under the presser foot of a machine
MAGIC MEND SCOTCH AND BLACK TWILL TAPE
Magic mend tape is used to mend pattern work.On the other hand,black twill tape comes in handy during placement of style lines on garments .
PUSH PINS.
A FREE PATTERN DRAFTING E BOOK FOR YOU FOR VISITING MY BLOG: CLICK TO DOWNLOAD:
These are primarily for pattern manipulation. If you want to cut several patterns at the same time,push pins help to keep them in place.
It stops the patterns from slipping or shifting during the cutting process.
PENCILS,WASH- AWAY/FADE AWAY MARKER PENS,SHARPENER AND ERASER.
These are all useful for pattern drafting: Use Wash away marker pens to transfer pattern marks to fabric.The ink from the marker can be washed away afterwords.
Fade away markers or air soluble pens ,is an alternative to tailors chalk.The ink fades automatically in 48 hours.
STRAIGHT PINS AND PIN HOLDER
Pins are used for draping and fitting garments on mannequins. Pin holders can be pincushions which can be tied to the wrist,or magnetic pin holders.
I tend to prefare both.I use the cushion when I am working on patterns.I later use the magnetic holder to pick up stray pins on the sewing table and floor.
DRESS FORMS
These allow you to adjust garments to get a better fit before sewing finally.It is best to start with adjustable dress forms.
linen covered dress forms, even though good for accurate pattern cutting,they are however only available in standard dress sizes.They cannot be adjusted.
SCISSORS.
I mentioned the different types of scissors you need in my blog post about Sewing accessories for the beginner. You could jump over and take a look at that.For pattern drafting however,you need the paper scissors .
DESIGNER CARRY ALL KIT.
Having a bag or kit to put all the items you need for your drafting is a great time saver.
When you have put together a sewing room,It is moreover advisable and practical, fore instance to get a pattern carry all bag.This will most importantly keep all your pattern tools in one place
WHY YOU NEED A PATTERN TOOLS CARRY ALL KIT
Whether you are a beginner or proffessionaĺ fashion designer,you need a pattern tools carry all bag or kit.
The fashion kit bag is an attractive leather portfolio type case .This case has enough room to accommodate all your pattern tools.
Apart from holding your tools, most importantly,It is made in such a way that it protects your tools from breakage and damage.
The carry all kit bag can contain virtually all the major pattern tools you need.
CONCLUSION
That is my take on pattern drafting tools and their function.
Whether you are just starting your sewing journey or have been sewing for some time, these tools are useful.
Is there any tool I have not mentioned? Please feel free to comment below.
Don't forget to follow me on Pinterest.